Hey there my nutty comrades…happy Wednesday, which means 1) it's halfway through the week -yes!! and 2) it's time to link-up for some What I Ate Wednesday!  If you're new to WIAW, it's a fun foodie link-up & great chance to get inspired with some new-to-you food choices!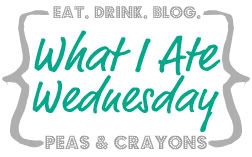 A big thank you to Jenn @ Peas & Crayons for hosting!
Some of you may know that I had been participating in a Paleo Challenge the past few weeks that was hosted by Giselle.  I did ok, but totally cheated one day so that I could have pizza & ice cream when I went to the theme park.  I won't lie though – what I REALLY missed was the dairy!
I'm not a huge dairy hound, & I do NOT drink milk, but I really did miss my Kerrygold Grass-fed butter & cheese!  I had done the challenge in part to see how my body felt after cutting dairy out again  - Verdict?  Well, I didn't really notice a difference.  Like I said, I don't drink milk & I only really consume the butter (minimal dairy) and the cheese, which is a fermented product, so lactose is low.  Plus, the butter & cheese that I am consuming is of high quality, organic and/or grass-fed (contains CLAs & other good stuff).  It doesn't bother me, so I'm going to adapt my personal paleo template to include some of it.  Any paleo police out there can just – deal.
Ok, now that all of that has been cleared up – on to the food!!  These are my eats from yesterday (Tuesday)… & it was the first day off the challenge.
BREAKFAST…
I ended up nearly running out of time before heading to the food pantry to do my volunteer shift, but I couldn't leave without breakfast!  Thankfully, this concoction was quick & easy, plus kept me satisfied all morning long.
 

MID-DAY SNACK…
I needed to run a few errands after the pantry shift, so I grabbed a Quest White Chocolate Raspberry Bar to hold me over – & satisfy my sweet tooth.
LUNCH…
I had a late lunch once I got back home… threw together a bunch of spinach, small grilled organic free-range chicken breast, roasted kabocha squash, blueberries, avocado, almond slivers, & Tessemae's Balsamic dressing.
 

AFTERNOON SNACK…
I'm so snacky in the afternoons lately… I had some Kerrygold cheddar cheese & some of my home-brewed kombucha while I read Shakespeare's Othello (homework, but love it).
DINNER…
Brian was planning on being gone again all evening for a golf outing, but it fell through… we didn't have any dinner plans – so we ordered Chinese food!  I got steamed mixed vegetables with chicken & then added my own Coconut Aminos to it at home.
EVENING SNACK…
A classic – banana with raw crunchy almond butter on it.  Simple, but amazing.
Well, there ya have it!  That's what I managed to stuff into my face yesterday.  Amazing how liberated I felt being able to have some cheese & butter again!  It really is the small things in life, isn't it?  ;)  Happy Wednesday friends!!
Dairy:  love or loathe it?  Best snack combo – go! (I'm going to say banana & almond butter)