Hi friends!!  Happy hump day & WIAW!!  Let's get this party started & join the link-up with Jenn over at Peas & Crayons!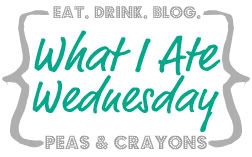 Thanks to Jenn for hosting & be sure to click on over & spread the love to some others, too!
Ok, so these are my eats from Wednesday Tuesday.  So, without further ado, here we go!
Breakfast:
My very favorite meal of the day… & my Chocolate Flax Pancake obsession continues.  Sorry guys, but they're just so good & they keep me full for a while!
Lunch:
I got my fish on with some baked cod & some green beans roasted in a bit of coconut oil & sea salt.  Mmm…
Dinner:
Dinner was a grilled steak with broccoli & carrots with italian seasoning.  The steak was just ok… not my favorite.  New York strip is my favorite, I think.
Snacks:
Some of my snacks throughout the day were: a Peanut Butter & Jelly Quest Bar, some raw baby carrots with celery, raw sugar snap peas, an Arizona Diet Peach Iced Tea (LOVE these), an apple, and a bowl of oat bran topped with some Cookie Nookie PB & cinnamon.
Overall, it was a pretty great day of eats.  Now I just need to make sure I keep my fingers spoon out of the PB jars at night!
Have a great day!!
What's your favorite fruit to snack on lately?

Do you have trouble keeping out of things like nut butter at night or in the evenings?